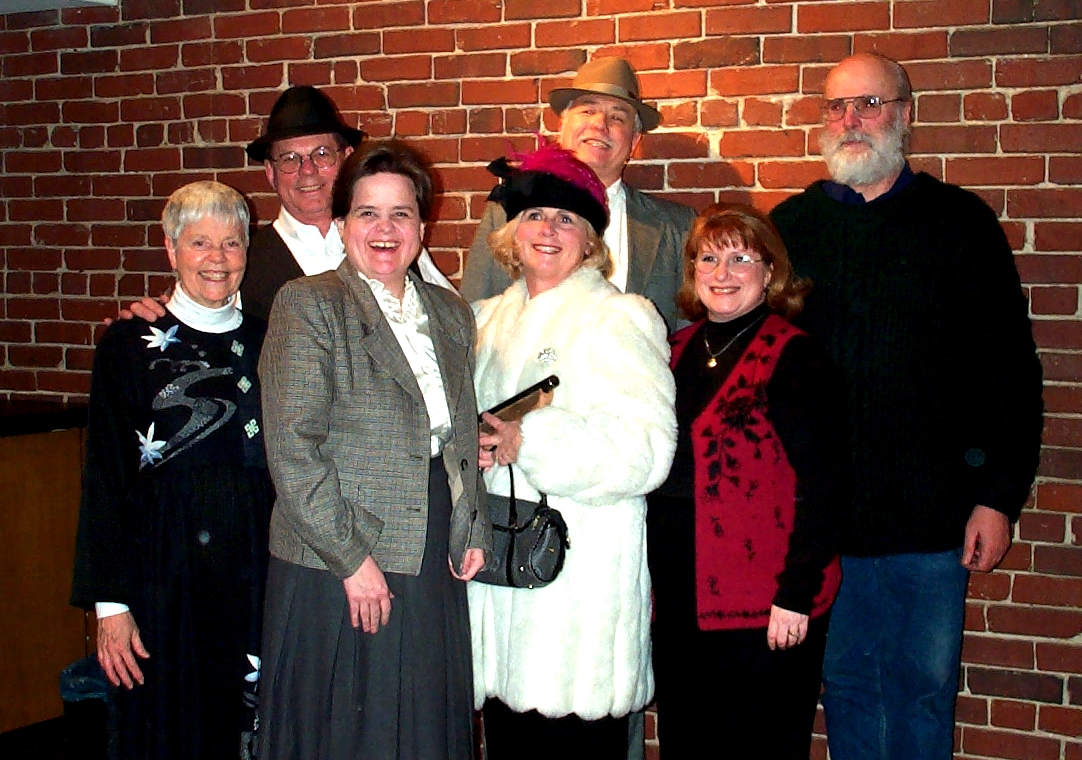 This was in the Sunday paper
______________________________________________________
'Crooks and Characters of Central Illinois'

February 2, 2003

What: Stories about infamous Peorians and historic lifestyles presented by the Peoria Prairie Tellers as first-person accounts.

When: 7 p.m. Saturday.

Where: Contemporary Art Center of Peoria, 305 SW Water St.

Tickets: $5/in advance; $7/at the door. Call 691-1465
------------------------------------------------------------------------------
http://www.pjstar.com/news/entertainment/g129381a.html
Hear 'firsthand' accounts of bootleggers, distilleries

Storytellers take listeners back to area's gangster period

February 2, 2003

By MATT BUEDEL
of the Journal Star

PEORIA - Information in this article may be incorrect: Meeting Peoria's storytelling guild members is a bit like attending a pathological liars convention, if such an event exists.

Next weekend, the Peoria Prairie Tellers will present "Crooks and Characters of Central Illinois," a series of stories depicting in first-person accounts infamous Peorians and historic lifestyles dating as far back as the 1860s.

When discussing the origins of their stories, a couple of the storytelling guild members slipped into character without alerting media members, though they did laugh afterward.

Carol Johnson said her story about life on High Street in the 1860s, the "boom years for distilleries," focuses on the opulent lifestyle of whiskey barons, weaving in the story of servants who lived vicariously through the social events happening up the hill.

"My great-great-granny was a seamstress and confidant for one of the families," she said.

Her story is a commentary on life in Peoria, as well as an indication of the nation's state at that time.

"It was a very rich era for these people," Johnson explained. "A lot of the money from here is what helped finance the Civil War."

Bill Holden explores one of the more notorious characters in Peoria's history: Bernie Shelton. Shelton and his brother, Ernie, bootlegged booze during Prohibition, then dabbled in illegal gambling before both were gunned down. Ernie met his fate in southern Illinois, while Bernie was shot in a tavern on Farmington Road.

Joe Shallbetter looks at Peoria in the 1940s through the eyes of Chance Coogan, a private investigator who investigates real events in Peoria's history.

"He's a young gentleman coming back from World War I, when (Peoria) was the booze capital of the world," Shallbetter said. "He hears about Prohibition when he's in France and returns to Peoria to find soda shops have replaced the taverns and brothels downtown."

Chance Coogan actually is the main character of a book written by a former Peoria private investigator, Norm Kelly. Kelly was a fraud investigator for insurance claims and has authored several books since retiring. "Lost in Yesterday's News" features Chance Coogan.

Another story to be presented details Peoria's oldest unsolved murder. Kay Price personifies the person who lives upstairs from Toledo Pekin and Western Railroad owner George P. McNear.

" 'He was really well padded,' is my proper way to say it," Price said.

McNear was gunned down at the intersection of Moss Avenue and Sheridan Road while walking home from a Bradley basketball game in March 1947. McNear had been involved in an ongoing labor dispute with union workers. One month before his death, armed guards shot and killed two pickets.

"Crooks and Characters of Central Illinois" is one of three annual productions presented by the Peoria Prairie Tellers, who also perform at private gatherings. All stories are approved by the guild.

Johnson added, "Some of us are really good at eulogies."